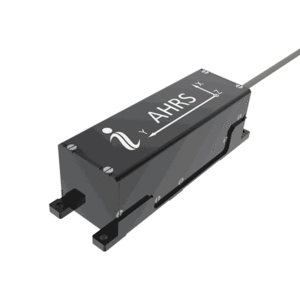 AHRS-I
AHRS-I this high-performance strapdown system determines absolute orientation with high accuracy for both motionless and dynamic applications.
Price per unit discount on orders more than ten units! Contact us for details!
$3,600.00
Description
Specifications
Description
AHRS-I is a high-performance strapdown system that determines absolute orientation (heading, pitch and roll) for any device on which it is mounted. Orientation is determined with high accuracy for both motionless and dynamic applications.
The Inertial Labs AHRS-I utilizes 3-axes each of precision accelerometers, magnetometers and gyroscopes to provide accurate Heading, Pitch and Roll of the device under measure. Integration of gyroscopes' output provides high frequency, real-time measurement of the device rotation about all three rotational axes. Accelerometers and Fluxgate magnetometers measure absolute Pitch, Roll and magnetic Azimuth at AHRS initial alignment as well as providing ongoing corrections to gyroscopes during operation.
AHRS-I Key Features & Functionality
State-of-the-art algorithms for different dynamic motions of Robots, UAV, UUV, UGV, AGV, ROV, Gimbals, and Antennas
Highly accurate, sensitive, and temperature stable Fluxgate magnetometers (in-house technology)
0.4° Heading and 0.1° Attitude accuracy in full temperature range
4°/hr gyroscopes and 0.05 mg accelerometers Bias in-run stability
Gyro-Stabilized Slaved Magnetic Heading
Suitable for Primary Attitude Reference
Advanced, embedded Kalman Filter based sensor fusion algorithms
Embedded 2D and 3D magnetic calibration on hard and soft iron
All solid state components (no moving parts)
Full temperature calibration of all sensing elements
Up to 200Hz data update rate
Environmentally sealed (IP67)
Compact design
One of the key elements to the success of Inertial Labs AHRS-I is its use of Inertial Labs 8mm Fluxgate Magnetometers.
Inertial Labs Fluxgate Magnetometers has distinct advantages over commonly used magnet0-inductive or magneto-resistive magnetometers. In operation over time and temperature fluxgate magnetometers have superior stability and repeatability. In terms of sensitivity, fluxgate magnetometers provide up to two orders of magnitude increased sensitivity.
In addition to the performance advantages, unlike the chip-level magnetometer technology, fluxgate magnetometers technology has been depended on for over 70 years to provide an accurate reference to North. It remains the most reliable magnetic sensor technology for determining an object's heading.
About Inertial Labs
Inertial Labs is a designer, developer and manufacturer of position and orientation tracking systems based on the combination of inertial sensors with a variety of other sensing technologies. With specific engineering expertise that includes the development of gyroscope technologies, gyro-compass systems, Kalman filter design, and sensor fusion; Inertial Labs engineers combine practical experience with PhD level academic knowledge.
| | |
| --- | --- |
| AHRS-I Key Specifications | |
| Heading static accuracy | 0.4° |
| Heading dynamic accuracy | 0.7° |
| Attitude static accuracy | 0.1° |
| Attitude dynamic accuracy | 0.3° |
| Heave accuracy | - |
| Gyroscopes technology | MEMS |
| Gyroscopes bias in-run stability | 4°/hr |
| Gyroscopes noise | 0.009°/sec√Hz |
| Accelerometers technology | MEMS |
| Accelerometers in-run bias stability | 50ug |
| Accelerometers noise | 40ug√Hz |
| Magnetometers technology | Fluxgate |
| Magnetometers in-run bias stability | 0.1 nT |
| Magnetometers Noise | 3uG√Hz |
| Pressure sensor in-run bias stability | - |
| Pressure sensor noise | RS-232 | RS-422 | RS-485 | USB |
| Output data format | Binary or NMEA |
| Supply voltage | +5.5 to +6.5 V DC |
| Size | 90 x 27 x 26 mm |
| Weight | 73 gram |