Pamela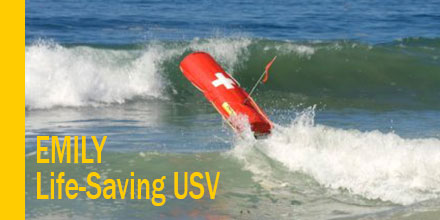 The Duluth Fire Department in Duluth, Minnesota is considering purchasing the Emergency Integrated Lifesaving LanYard (EMILY) drone.
Hydronalix, located near Tucson, Arizona, created and manufactures the 24-pound unmanned water rescue vehicle.
EMILY functionality
The EMILY is a life-saving, unmanned surface vehicle (USV) that first responders can deploy and operate remotely to help reach distressed individuals.
Equipped with a two-way radio, the EMILY allows first responders to communicate with the person in need of assistance. The USV carries a detachable life-jacket and helmet and can assist up to eight people in distress.
Real-world application
Duluth Fire Capt. Brent Consie decided to test out the EMILY because of the city's amount of shoreline. It is also one of the worst spots in the Great Lakes for rip currents. "One of our biggest concerns with rescue is with rip currents," Consie said in an article from the Grand Forks Herald.
"When we've got an east wind or a wind that's about 10 to 15 miles an hour, we have currents that actually flute water back off shore. So, people who find themselves caught in rip currents are often taken by surprise. People who are not familiar with our waters get into a situation where there's potentially a drowning. We want to be able to get to them as fast as we possibly can."
Testing the EMILY
At the end of July, the Duluth Fire Department, along with other area agencies, tested the USV during a mock rescue scenario. The scenario included two Duluth firefighters floated in the chilled waters of Lake Superior. Response time is even more vital because of the waters cold temperatures.
A firefighter on shore used a remote control to direct the movements of the USV, leading it to the firefighters in the water. Once the vehicle reached the firefighters, they latched onto a set of handles and were pulled to shore.
On average, the department has six water emergencies per year. Boats are currently the only vehicles available to rescue distressed swimmer. The EMILY may be a better alternative.
Technology advancements for the good
"Technology is always changing. This USV is a different approach because the drownings happen so fast and our conditions change so fast," Consie says. "We're looking at ways we can improve. How can we use technology to keep improving our delivery of services?"
In addition, Consie said that the USV allows first responders to reach someone in need of help faster than the department's current capabilities. In scenarios where first responders need to rescue someone in the water, they can still deploy the USV so that the person can have something to hang on to while waiting for help.