Pamela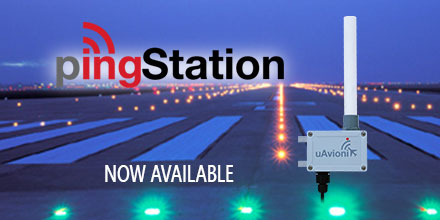 uAvionix Corporation, the leading Unmanned Aircraft System (UAS) avionics solution provider, recently announced the introduction of PingStation.
PingStation is an all-weather, networkable ADS-B receiver for low and high altitude aircraft surveillance.
Additionally, it is robust enough to permanently mount outdoors in harsh environmental conditions. It is also small enough for use as a mobile asset for roaming operations.
PingStation debut application
In its debut application, PingStation is a component in Phase 1 of Project UAS Secure Autonomous Flight Environment (U-SAFE). This program is part of a low-altitude Beyond Visual Line of Sight (BVLOS), Unmanned Traffic Management (UTM) corridor. This corridor extends from Griffiss International Airport to Syracuse, NY.
A grant from Empire State Development Corporation provides funding for Project U-SAFE. Additionally, PingStation provides ADS-B receiver capability for the Gryphon Sensors Mobile UTM System – Mobile SkyLight.
Features of PingStation
PingStation is a dual band (978MHz and 1090MHz), networkable ADS-B receiver with a Power-Over-Ethernet (PoE) interface enclosed in an IP67 rated protective enclosure. Integrated is the TSO certified uAvionix FYX GPS receiver for high-resolution time-stamping for critical applications.
It provides ground, surface, or low-altitude ADS-B surveillance within line of sight of the antenna, with ranges exceeding 250NM depending on the transmission power.
PingStation has multiple uses within the aviation industry:
Unmanned Traffic Management (UTM) systems
A component of UAS Ground Control Stations (GCS)
A component of UAS Detect and Avoid (DAA) systems
Airport surface and region situational awareness
FBO/flight school fleet tracking and management
Multiple subscription free software/data interface types allow easy integration directly into end applications such as UAS ground control stations, airport surface displays, or cloud-based situational awareness applications.
Natively, PingStation provides integration into Virtual Radar Server, an open-source situational awareness mapping display system, the Kongsberg Geospatial IRIS UAS Airspace Situational Awareness Display, and INDMEX Aviation's Airboss airport situational display suite.
"uAvionix is excited to add PingStation to our product line of ADS-B transceivers and receivers," said Paul Beard, CEO of uAvionix. "Our customers informed us for the need of robust and low-cost surveillance solutions to complement the airborne equipment used in their operations."
Shop uAvionix entire line of ADS-B products, including the PingStation, at Unmanned Systems Source.
About uAvionix Corporation
uAvionix develops the world's smallest, lightest and most affordable ADS-B transceivers, transponders, and GPS receivers. Based in Palo Alto, uAvionix has gathered a cross-disciplinary team of experts in embedded RF engineering, sUAS operations, avionics, hardware, software, and cloud services.