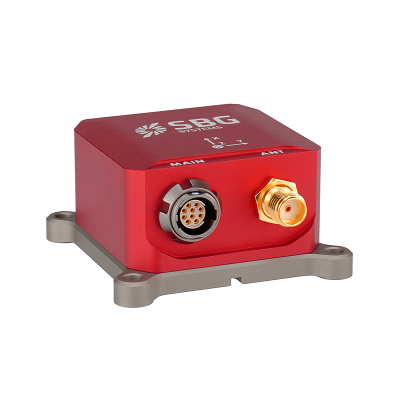 Ellipse2-N
Ellipse-N is a small-sized high performance Inertial Navigation System (INS) with integrated GNSS receiver. It provides Roll, Pitch, Heading, Heave, and Navigation data.
Description
Reviews (0)
Specifications
Description
Ellipse-N is a light-weight sensor which includes a MEMS-based Inertial Measurement Unit (IMU) integrating three gyroscopes, three accelerometers, and three magnetometers. It runs an enhanced Extended Kalman Filter (EKF) which fuses inertial data with GNSS, Odometer, and DGPS information for excellent orientation and navigation data in the most challenging environments.
Available configurations: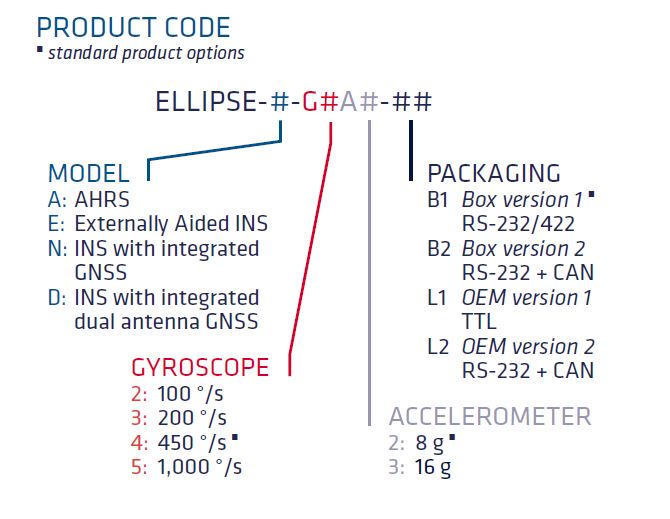 All-in-one Powerful INS/GNSS
Ellipse-N is a full-featured miniature inertial navigation sensor. It embeds the latest generation of GNSS receivers (GPS + GLONASS or GPS + BEIDOU) for a better satellite availability in harsh GPS environments (i.e urban canyons). In addition to provide accurate position and velocity, the GPS aiding allows the Ellipse-N to maintain accurate orientation even during long term accelerations. This advanced inertial sensor additionally accepts differential corrections for even more precise navigation data.
Applications
Marine: For such a compact and cost-effective sensor, Ellipse-N features an advanced heave capability which automatically adjusts to the wave period. Ellipse-N is water-resistant (IP68) and is perfectly suited to marine applications such as Unmanned Marine Vehicle (UMV) orientation and navigation, Buoy or Racing Boat Motion Monitoring, etc.
Land: Additionally to embedding a GNSS receiver and accepting differential corrections, Ellipse-N can be connected to an odometer for a smooth trajectory in urban canyons, tunnels, and forest. Ellipse-N is perfectly fitted to Car Motion Analysis or Unmanned Ground Vehicle (UGV) navigation for example.
Aerospace: The internal GNSS receiver combined with DGPS corrections makes the Ellipse-N the ideal solution for aerospace applications where high performance is needed in a compact sensor such as Avionics or UAV Navigation. Temperature calibrated, the Ellipse-N provides reliable attitude and positioning data even during temperature variations.
OEM Version
This lighter version of the Ellipse-N will benefit to designers who are searching for high performance in a light-weight (12 grams) and compact package.
This OEM version is more robust and easier to integrate than traditional PCB boards OEM modules.
Development Kit
SBG Systems has designed a powerful and easy-to-use Development Kit. In just a few seconds, you start evaluating and configuring your inertial sensor and integrate it in your system.
Click here to read more about the Ellipse2-N 
About SBG Systems
SBG Systems is a fast growing supplier of miniature, high performance and innovative motion sensing systems.  They offer a complete line of inertial sensors based on state-of-the-art MEMS technology such as Attitude and Heading Reference System (AHRS), Inertial Measurement Unit (IMU), Inertial Navigation Systems with embedded GPS (INS/GPS), etc.  This technology, combined with advanced calibration techniques offers miniature and low-cost solutions while maintaining a very high performance at every level.  SBG Systems is headquartered in Rueil-Malmaison, France.
High Accuracy for Such a Small Sensor:
0.2° Roll and Pitch over 360°

0.5° Heading (GNSS aided)

10 cm Real-time Heave, adjusted to the wave period

2 m GNSS Position
Key Features:
Very Low Noise Gyroscopes
GPS + GLONASS / BEIDOU receiver
Differential Corrections (RTCM)
Connection to Odometer
200 Hz Output Rate